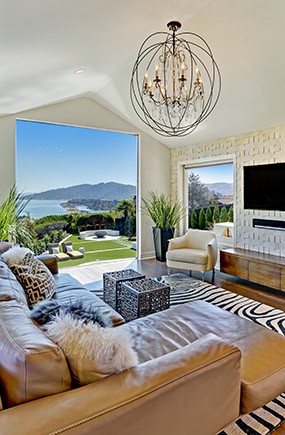 EXTRAORDINARY TIBURON RESIDENCE
4 Beds
•

3.5 Baths

•

4,475 SF

•

Price Upon Request

80 Vía Los Altos, Tiburon, CA 94920, USA

A Home of Light, Space & a Million Views
"Catching your eye for architectural design that responds to the natural environment, this home's joie de vivre is a symbiosis between culture, place and landscape. The subtly glamorous interior infuses stunning open spaces with natural light, nature, intimate settings and cityscapes. With a brilliant mix of classic and contemporary style—where high tech meets high design—living, good living, is the key word and motivation behind this sun-splashed home that is both comfortable and elegant offering seamless indoor-outdoor living."
                                                                                          ~Coletti Design

The Creative Expression
Present-day architectural awards emphasize designs with continuous integration of function and form to create living canvases. The redesign of 80 Via Los Altos—is indeed the canvas that effortlessly embraces family and friends in open yet intimate settings where one can comfortably live, work, relax, cook, dine, rest and entertain, year-round.
Wind the clocks back a year and a half and see a property in desperate need of attention. The Coletti Design teams peeled back the construction until reaching the studs so that a massive restructure could unfold the home's inner beauty, incredible views and flow of energy. The objective of the renovations was to create an organic, harmonious and visually captivating tapestry. Essentially, a home where one is thrilled to begin and end their days knowing they will be filled with luxurious finishes and resort qualities, drenched in natural light and surrounded in privacy.
A Living Retreat Awaits
"All senses engage in this sumptuous four bedroom, three and one-half bath, three-story home."
Situated against a backdrop of scenic Tiburon trails, this extraordinary residence sits atop a knoll. The property's real draw is its unique setting that provides privacy while taking advantage of awe-inspiring, 230-degree unobstructed views throughout the 4,439 square feet of living space. Nature enthusiasts will covet the location for its access to hiking trails, fashion folk will ogle at this home's keen design, commuters will be grateful for close freeway access, children will love the protective neighborhood and proximity to school and sports, and friends and family will love it as a luxury retreat.
Employing nature's finest, this home expresses a unique vitality that is both fresh and functional. The alluring floor plan creates perfect livability for an individual, a couple or a family. Its design stuns with a new contribution to modern lifestyle. The fusion of earth's most basic elements—light, wood, stone, metal, fire and water—play on current trends but result in a timeless aesthetic. Use of the neutral palette keeps the focus on the lush topography and allows the outdoors to feel like a part of the home.
A multitude of distinct panoramas grace every room of this light-splashed home. The bay, San Francisco's cityscape and financial district, Marin Headlands, Sausalito, Mill Valley, Belvedere Island, Angel Island, the Bay Bridge, Tiburon foothills, the Berkeley foothills and Mount Diablo's peaks are all but a head turn away. Arguably, Maison de la Lumiere offers one of Marin County's finest and most intriguing views.
The Home's Details
With surprise and awe, everyone welcomed into the special residence  finds themselves catching their breath. The interior design begets quietness within the soul. A refined sense of rhythm embodies all expectations in this show stopping, blended space, floor-to-ceiling-windowed home with intrinsic open-air energy. It indeed captures the much-desired Tiburon verve for living with perfect synergies of architectural ingenuity and earthy elements.
The Exterior
Sand-colored palette of redwood shingles offset by both mature and new land/hardscape creates a subtle yet eye-catching exterior. From Via Los Altos steps and a beautifully manicured path lead to an intimate courtyard that inspires a zen-like welcoming with graceful running water.
"The Main Level"
Walls painted in dove white, high ceilings, abundant windows and custom wood flooring, hued in a stain of sable gray, are the ethos upon which the rest of the design builds. The main level's tenet is to allow each room to naturally progress to the next then open to idyllic alfresco living.
Foyer
Over-sized custom, double black-lacquered wooden doors open to an eighteen-foot high ceiling. Upon entering, one's eyes are immediately invited to look out through a large picture window (six feet wide by seven feet high) and experience the home's first-of-many stunning panoramas and rich light— vista of the sky, the rolling foothills of Marin's Ring Mountain, the bay across to Berkeley's foothills, and further on to the peak of Mount Diablo.
Chef's Kitchen
Surrounded with windows, the kitchen basks in natural light from sunrise to sundown. It doesn't begin and end but rather radiates exuberance into everything and everyone. A perfect harmony with the residence's setting, dynamic textures of wood, stone and stainless steel intermingle as if one with the topography.
Subtly, two generously sized islands (each nine feet by five feet) anchor the kitchen in a soothing aesthetic. The breathtaking islands are topped with Calacatta Carrera honed marble slabs that extend to the floor with four waterfalls and bookmarked edges. They create the home's heart-center through use of a series of fluid passages that link spaces. The custom cabinetry features horizontal, rift-cut white oak stained in a charcoal-ash palette to beautifully complement the wood flooring and the refined tones of cream- and gray-hued countertops.
There is abundant storage in the wall cabinets and in the islands, featuring soft-closing doors and wide-gliding drawers and shelves. The cabinets include a water-plumbed coffee center and an electronic drawer wired with electrical outlets for charging phones and computers while keeping unsightly cords hidden.
The cabinetry and marble offer the ideal backdrop for the finest stainless steel, professional-grade appliances— Gaggenau, Sub-Zero, Thermador, Galley Sink Workstation, and more. The expert design is envisioned for both professional chefs and everyday use. A large five-foot prep workstation/sink and a separate deep, cleaning sink—flanked by two dishwashers—readily invites the creation of culinary delights, multiple cooks and easy cleanup. The kitchen's islands are also a lovely place to work with one's laptop, on craft projects and homework. A north corner of the island is designed for bar and cocktail use complete with an ice maker, wine cooler and liquor storage.
Family Room
Defined by a surreal "infinity" window (nine feet high by eight feet wide), this generous room is both cozy and nothing short of spectacular. Framed by windows on three sides, the room sequences distinct views from all areas of lounging. A high-gabled roof and textured wall of island-stone squares from Indonesia provides for separateness without closing off the space. Invisibly a media wall and custom cabinetry hide tech/entertainment equipment with ease.
Living Room
The living room is ideal for sophisticated entertaining or daily relaxing. Innovative, award-winning La Cantina accordion-style doors (2015 Product Innovation Award, Architectural Products) and high ceiling expand upon the home's lithe theme. The La Cantina doors (thirteen foot wide opening) welcome in gentle breezes and connect the home to the terrace and tony outdoors hardscape—reminiscent of five-star resorts.
The room offers a floor-to-ceiling wood-burning fireplace that adds beautiful ambiance and is visible from the kitchen and dining rooms. The picturesque San Francisco cityscape adorns the backdrop.
Dining Room
With a curved wall of windows that overlooks the back of the property and embroidered-like foothills, this room offers ocular delights that engage all senses. Spacious enough to seat 24 people at a dinner party, it also is an ideal setting for an intimate, candle-lit evening with family and friends.
Powder Room
With silver and charcoal metallic walls, the generous powder room is dramatic and softly lit by a crystal, black-drum chandelier. The custom vanity is constructed from exotic Bees Wings Tasmanian Eucalyptus wood that floats off the flooring and supports a solid black granite angled sink (four inch thick stone). The custom cabinetry provides ample storage.
"The North Wing of the Main Level"
A Second Master Suite / Study
Located in the north wing  is a tranquil room for use as a second master suite or study. The space curves with scenic windows and offers expansive views of the rolling hills and San Francisco's financial district. Custom cabinetry frames a Murphy Bed, complete with an elegant headboard, that can be stored away with just a fingertip.
An en-suite bath offers relaxing privacy, views and features a contemporary color palette of charcoal and gray tones. A handsome, vessel sink with a waterfall faucet sits atop Artic White quart-slab countertops and complements the back splash of glass tiles. The shower, vertically tiled in rich gray-veined Calacatta Arabestcato marble, has an oversized cast iron tub (60 inches) with a swinging glass door. Chrome and carbon fiber cabinet pulls, black porcelain-tiled floors, contemporary black lighting fixtures and Ginger hardware complete the beautifully designed bath.
Utility Room, Wine Room and Storage
Utilitarian spaces such as laundry rooms seldom receive the attention they deserve, which is counter intuitive given how often they're used. However, this home's laundry room is a gem. With abundant, built-in cabinets, black-granite-slab counter tops for easy clothes folding, a large utility sink, pedestal washer and dryer and a pullout drying rack, this properly planned utility room serves multiple purposes.
The room's double- or triple-duty potential includes a clever built-in gift-wrapping station and ample room for crafts.  Multiple functionality simplifies household chores, stores accessories, seasonal items, sports gear and school supplies, and even functions as a grooming center for family pets. It easily transitions into a mudroom, storing extra shoes and winter clothing.
The cellar area houses over 300 bottles of wine and can be expanded to hold double this amount. Custom cabinetry stores over 100 crystal-stem glasses, securely.
Behind the utilitarian and cellar areas is a very large storage room—approx. 400 sq feet—easily accessible through a standard door.
Happy, spring-green paint brightens the airy room with a window and double sky light. Black and white accents, wood-grained tile floors and a glass-paneled sliding wood make this room alive with opportunity.
"The Master Bedroom Level"
The master level is a secluded sanctuary. It features a spacious master suite, small office, a unique footbridge, spa bath, walk in closet and skylights.
Footbridge/Nook
Flanked by glass and steel on either side, the footbridge rest in front of a small, quiet nook/office that is surrounded by built-in bookshelves and cabinetry. An ideal space where electronics, printers and cords can be hidden from view when not in use.
Master Suite
The master suite can be summed up in four words: secluded, sophisticated, comfortable and serene.
The sprawling suite showcases transcending bay and San Francisco's cityscape views. With a wood-burning fireplace (floor-to-ceiling herringbone pattern of Italian tile), ample seating area, high ceilings and a skylight, rest and relaxation is assured.
The Master Bath
With thoughtful design the master bath is filled with ethereal gifts like serene sunrises and sunsets, picturesque Cityscape views and abundant sunlight. It also gifts one extravagances and five-star amenities like separate "his and hers" vanity areas, a private water closet, a spa room with soaking tub and rain shower, and a large walk-in closet.
The "his and hers" custom floating vanities are made of exotic, African mahogany wood. Oval, glass vessel sinks are designed in the same shape as the soaking tub and sit atop Arctic White quartz-slab countertops. The backsplash features glass tiles each adorned with a custom pewter-bronze leaf. Mirrors extend around the walls, capturing the views and light from every angle.
A defining feature of the master bath is the stunning Spa Room. Tiled floor-to-ceiling in Calacatta Gold marble, this spacious, glass-enclosed room holds a freestanding quartz-stone, soaking tub (extra-large at 74 inches in length), a large rain shower (16 inches square), a teak bench (48 inches long), and a separate multi-function, dual-head body shower head.
Ultimately this master bath invites calm preparation and true relaxation that is much desired in today's hectic world.

"The Home's Lower Level"
From the "Main Level" is an open stairway that leads to the lower level, showcasing a peak of the pool.
Bedrooms
One of the subtle details of the home that caught the designers' attention was the potential for these two bedrooms to offer children/family/guests a resort quality to their living space. These generously sized, east facing, tranquil bedrooms capture unique views of the beautiful topography and sunrises, are sun-drenched through mid day and open up to their own private patios—a feature that is lacking in so many secondary bedrooms today.
Multi-Purpose Bathroom—for Bedroom and Pool Use
This spacious bathroom is cheerful and light, serving the bedrooms and the pool. The tub/shower features pebbled-stone walls and a multi-function dual-head body shower head, perfect for long showers. Gray, porcelain-tiled floor leads to a glass door that opens up to the spa/pool area. An Arctic White quartz-slab countertop sits beneath a shattered-crystal-glass backsplash. The bathroom features a seating area at the vanity and plentiful shelving, ideal for storing bath and pool towels, bathing suits and sunblock for the summer months.
Storage
Making use of the space beneath the stairs, a multi-purpose storage area has been built to be used for seasonal home wares, seldom-used kitchen appliances, luggage, pool toys and so much more.
"The Outdoor Living Spaces"
The outdoor space was of utmost importance to the redesign and this goal was exceeded. Inspiring year-round living and resort qualities, California lifestyle has been richly achieved with more than one thousand square feet of terraces and patios and three thousand plus square feet of level-ground, usable landscape.
A series of sleek, stucco retaining walls allowed for the design of this new outdoor living space. Natural-rock waterfall, fire pit areas, the kitchen and seating areas are usable year-round because a windscreen that blocks the ocean and bay breezes. It creates a calm haven—a warm, protected micro climate—that works with more than one hundred plants to create a wide-privacy hedge (within 24-36 months the outside pittosporums will grow up to twenty-five feet and the interior thujas will grow up to fifteen 15 feet). Once fully mature, this landscape design will bring to life a tapestry of greenery that frames the landscape with depth, color and design while ensuring complete privacy.
Ten citrus trees have been planted on the property: three Meyer Lemon, two Mandarin Owari Satsuma, two Lime Bearss Espalier, two Mandarin Clementine and one Orange Fisher Naval. Additionally, two mature, fruit-bearing avocado trees were planted to join the existing four pear trees and two apple trees.
Seven mature magnolias have also been planted to screen neighboring homes and provide privacy, while allowing views of Mill Valley's foothills to continue west—beautifully viewed from the breakfast nook and family room.
Also gracing the property are a multitude of mature trees: Lovely maples provide spring greenery that turn to brilliant oranges and reds in the autumn, quietly losing leaves through the winter to again surge to life in spring. Several plantings will burst forward in all of the seasons of the year—cedars, pepper trees, crape myrtle, candor, juniper, loquat and more—each will change the tapestry with surprises of delights.
 The design of the hardscape/landscape and gas fire pit seating area is specifically intended to draw the eye forward to the San Francisco cityscape. The fire pit's round-design (white sand flooring with charcoal black bowl) is reminiscent of the home's circular interior design features.

Shana Rohde-Lynch
Broker Associate
Lic#01079806
415.789.9999 d
415.264.7101 c
shana@pacunion.com
Go2Marin.com | My Bio

DISCLAIMER: The information set forth on this site is based upon information which we consider reliable, but we cannot represent that it is accurate or complete, and it should not be relied upon as such. The offerings are subject to errors, omissions, changes, including price, or withdrawal without notice.
The above information including square footage is based on data received from the seller and/or from public sources. This information is deemed reliable but has not been independently verified and cannot be guaranteed.